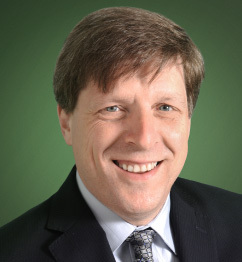 Forecast For Tomorrow – the technology of the near future series
Aging 2.0
September 23, 2013
|

20:00

Today, he works on extending the lives of mice, but, once he's done with these model animals, it will be humankind's turn. On September 23rd, the Digital October Center hosted a lecture from Brian Kennedy, the director of the first US institution to specialize in anti-aging research.
On September 23rd at 20:00, the Digital October Center hosted a live link-up with Brian Kennedy, PhD and CEO of the Buck Institute. Kennedy has made a number of discoveries related to the biology of aging and serves as the director of the first national research organization in the US devoted solely to the search for and development of effective anti-aging medicines. This event will take place as part of the "Forecast for Tomorrow" lecture series, which was created by the Knowledge Stream project in collaboration with IBS.
The Institute that Kennedy presides over has gathered more than 270 international specialists; there, they perform basic and applied research on longevity issues, including the study of widespread age pathologies including Alzheimer's disease, diabetes, and cardiovascular disease, and they search for ways to prevent and treat them.
One of the institute's central research focuses involves studying the potential of Rapamycin, a substance discovered in soil bacteria on Easter Island about 40 years ago.
For now, it is used in tissue and organ transplants, but Rapamycin could turn out to be the infamous "elixir of youth" in 2009, several laboratories independently conducted the first successful experiments using Rapamycin on mammals. The mice that were given the drug lived 9-13% longer than their counterparts in the control groups. The age of the rodents chosen for the experiment was about 600 days, which, in human terms, is roughly equal to 60 years.
For now, however, the age-retarding substance is not without its dangers, as a result of its immunosuppressant qualities. This is the very problem that Kennedy and his colleagues at the Institute are now working to solve.
During this lecture, Brian explained why tissues and cells lose their ability to regenerate over the years, and will discuss:
the development of Rapamycin research over the past few years
which of today's anti-aging research topics have the most potential
what kind of social and economic shifts could take place as a result of the extension of people's active lives.