Zeev Zalevsky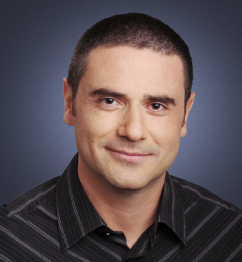 Health in the Digital Century series
Photons — diagnostics at the speed of light
March 28, 2013
|

20:00

On March 28 one of Kinect engineers Professor Zeev Zalevsky gave a talk at the Digital October center on how opto-electronic technologies can save ones live.
On March 28, Israeli physicist and one of Kinect ex-engineers Zeev Zalevsky gave a lecture at the Digital October center as a part of the Knowledge Stream educational project.
He presented new discoveries in the field of non-contact optical electronics, that can be used in medicine, particalarly for the early diagnosis of such terrible diseases as malaria and glaucoma.
Zalevsky is a Professor of Electrical engineering and Nanophotonics at Bar Ilan University in Ramat Gan, Israel, and also the founder of several companies specializing in the development and manufacturing of cost-saving Opto-electronic components and modules (one of them was sold for $80M.).
In 2007, Zalevsky was one of the leading founders of the Bar-Ilan Institute of Nanotechnology & Advanced Materials (BINA). He published more than 400 papers and 5 books and is best known for his work on Super Resolution. He developed some techniques to overcome resolution limits.
In 2011, Zalevsky's optical heartbeat monitor was selected as one of the "Israel's top 45 greatest inventions of all time". He has more than 50 patents in the field of optics including the Kinect motion sensing and the Opto-Phone.
POST-LECTURE DISCUSSION PARTICIPANTS
Oleg Medvedev

PhD in Medical Sciences, professor, Head of the Department of Pharmacology of the Moscow State University

Sergey Malozemov

moderator,

host of scientific TV-program, NTV

Valery Tuchin

PhD in Physical and Mathematical Sciences, professor, Head of the Department of Optics and Biophotonics, SSU

Sergey Sedykh

CEO, Russian Mobile Health

Dmitry Rogatkyn

PhD in Technical Sciences, Head of Physical and Mathematical Research Laboratory, MRRCI n.a. M.F. Vladimirsky

Alexander Dreval

Professor, PhD in Medicine, Head of the Department of Clinical Endocrinology, MRRCI n.a. M.F. Vladimirsky
Event photo gallery
partners
| | | |
| --- | --- | --- |
| Media partner | Educational partner | Media partner |
| Media partner | Media partner | Media partner |
| Media partner | Media partner | Media partner |
| Media partner | Media partner | Freelance partner |
| Media partner | Media partner | Media partner |
| Media partner | Media partner | Media partner |
| Media partner | Media partner | Media partner |
| Media partner | Media partner | Media partner |