Christopher Sandberg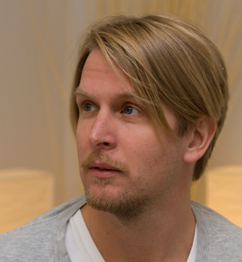 The Future of Media series
It's time to buy a TV
February 03, 2012
|

19:00

Christopher Sandberg is the founder and creative director of the Swedish company, The Company P, which produces interactive, participant-based television shows. He explained why television content to this day still looked as though it had been filmed in the 1990s and explained how to create a truly interesting product.
The world does not stand still. In the place of traditional television sets come flat screens, in the place of "Santa Barbara" - "Sherlock" and "Heroes"; this may be so, but the presentation of this television content has not changed. Modern media has created a united platform, but television content has remained virtually unchanged. This fact greatly excites Christopher Sandberg, who justifiably wonders, "Why don't sitcoms feel like they're made in 2011 instead of 1995? Who's doing it right, and what lessons can be gleaned from their successes and failures? What has to change about content development to make truly killer current content?"
Christopher Sandberg is well-known as the founder and creative director of the Swedish production company, The Company P, which develops interactive television projects. In the company's shows, the viewers are meant to become true participants in the story: by voting, searching for additional content on websites and social networks, downloading mobile applications, and playing alternate reality games.
Chris's company created "The Truth about Marika", the project that won the International Interactive Emmy Award for Best Interactive TV-Service in 2008. The viewers of "The Truth about Marika" searched for Marika herself and others who had gone missing. They took part in street rallies across Sweden, created video blogs, and participated in talk shows. The other project of The Company P, also an Emmy-nominee, is called "The Conspiracy for Good". It had its audience running through the streets of London and carrying out quests, battling against imaginary corrupt corporations, and earning real money that was used to build a library and pay for the education of schoolchildren in Zambia.
During his lecture at Digital October, Chris described how the process of video content development had to adapt to the changes in digital media: "Viewers expect a different experience now that must be brought into the conception and development stages of content creation. Where are the second screen content pieces? Where is the built-in online integration? Television (and even some online) shows are still being conceived and developed like it's 1995".
POST-LECTURE DISCUSSION PARTICIPANTS
Caitlin Burns

Editorial Lead, Transmedia Producer Starlight Runner Entertainment

Oleg Vakhromeev

PR/Marketing Director, REDMADROBOT

Elena Gudkova

Development executive Sony Pictures Television International

Alexander Kaurykh

Founder and President DViZ RealTime Systems
Event photo gallery
partners