Michel Maharbiz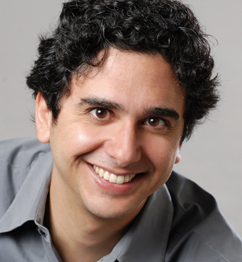 Biotechnology series
Cyber-beetles flying to the rescue
March 26, 2012
|

20:00

On March 26th at the Digital October center with support of Scientific American magazine, Michel Maharbiz, a professor at the University of California – Berkeley, gave a lecture on the creation of bio-robots and the control of their flight.
On the 26th of March at the Digital October Center, a lecture by Michel Maharbiz, a professor at the University of California at Berkeley, took place. Michel received his PhD for his work on microbioreactor systems. In 2009, Dr. Mahabiz's laboratory, part of the Department of Electrical Engineering and Computer Science, was awarded the NSF Award for research into the production of microinterfaces for synthetic biology.
Currently Michel is not only actively developing micro- and nano-interfaces for cells and organisms, but recently his team has been recognized for their creation of the first-ever radio-controlled cyber-beetle. Michel Maharbiz's ultimate goal is to understand the development of biomechanics and use this knowledge for the development of biomachines.
On the 26th of March Dr. Maharbiz discussed the latest developments of his laboratory that are related to implantable neural systems that allow for the remote control of insects. After the lecture, Russian nanotechnology experts discussed the trends of extreme miniaturization of neural systems that have been developed with the goal of implantation in cellular organisms.
POST-LECTURE DISCUSSION PARTICIPANTS
Danila Medvedev

member of the coordination council of the Russian Transhumanist Movement, futurologist, host of TV program For the Future on Nauka 2.0 TV channel

Aleksei Polilov

PhD in Biology, member of the Russian Entomological Society

Alexander Galushkin

PhD in Technical sciences, professor, Distinguished scientist of Russia, an expert in robotics and control systems

Sergei Shishkin

PhD in Biology, researcher at Lab for Neurophysiology and Neurocomputer Interfaces of Moscow State University. Senior researcher at Lab for Cognitive Methods and Neurointerfaces of National Research Centre "Kurchatov Institute"

Yuriy Martinenko

professor, Head of the Laboratory of the General Mechanics of MSU, Distinguished scientist of Russia, an expert in robotics, mechatronics, biomehatronics
Event photo gallery
partners
| | | |
| --- | --- | --- |
| Intellectual partner of lecture | Media partner | Media partner |
| Media partner | Media partner | Media partner |
| Media partner | Media partner | Media partner |
| Media partner | Media partner | Media partner |
| Media partner | Media partner | Media partner |
| Media partner | Media partner | Media partner |
| Media partner | Media partner | Media partner |
| Media partner | Media partner | Media partner |
| Media partner | Media partner | |