Marco van Veen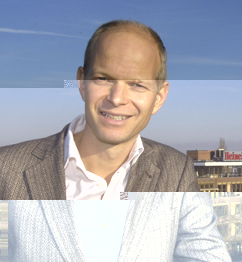 The Future of Communication series
Add to reality with your impressions
April 13, 2012
|

19:00

On April 13th the Director of Bitmove, Marco van Veen, talked about new marketing technologies, based on the impressions of consumers.
On the 13th of April the Digital October Center invited Marco van Veen, who gave a lecture entitiled "Add to reality with your impressions" from the series "Future of Communication."
Mr. van Veen is the Director of the Dutch company Bitmove, which literally raises the next level of communication with the help of new technologies. Marco calls this approach "experiential marketing" or the "marketing of impressions".
Marco van Veen revealed the core of this new approach using his own experiences, which are quite impressive. For example, a public service announcement, a recent winner at the Cannes festival, was built on the technology of augmented reality. This brilliant stand against aggression demonstrates the key concept of Bitmove; namely that acquaintance with brands should be a personal and positive experience for the consumer. Technological tools are unlimited and constantly evolving.
Marco van Veen, as a founder of new media with twelve-year experience successfully promoting brands such as Heineken, Samsung, Nestle, and the Anne Frank Museum, told about how to attract and hold the attention of consumers, how to encourage people to share their positive experiences and also about how to enjoy that fame.
After the lecture a discussion with Russian experts took place. Among these experts there were technologists, marketers, and artists.
POST-LECTURE DISCUSSION PARTICIPANTS
Oleg Vakhromeev

PR/Marketing Director, REDMADROBOT

Mitya Voskresensky

Digital strategist at Euro RSCG

Viсtoria Derevyanko

Heineken Brand Manager

Ilya Ryzhkov

Head of Producing department of Red Keds

Irina Kharseeva

PR-manager of AR Door
Event photo gallery
partners
| | | |
| --- | --- | --- |
| Intellectual partner of lecture | Media partner | Internet partner |
| Media partner | Media partner | Media partner |
| Media partner | Media partner | Media partner |
| Media partner | Media partner | Media partner |
| Media partner | Media partner | Media partner |
| Media partner | Media partner | Media partner |
| Media partner | Media partner | Media partner |
| Media partner | Media partner | Media partner |
| Media partner | Media partner | |