Anuk Pappers and Maarten Schafer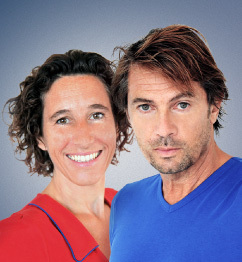 The Future of Communication series
The Brand Tales
September 13, 2013
|

19:00

Trusted by Richard Branson, the Red Hot Chili Peppers, and others of the brightest stars and projects of our day to mold their message, authors of Around the World in 80 Brands gave a lecture coupled with a master class using stories that will be sure to inspire.
On September 13 the Digital October Center hosted a tele-lecture with Maarten Schäfer and Anouk Pappers, founders of CoolBrands and authors of Around the World in 80 Brands. They call themselves brand anthropologists and, as part of Knowledge Stream, gave a talk about how to create a story about yourself or your company that will speak to people, and also conducted an interactive master class with the audience to further build on what was learned during the lecture.
Maarten and his colleague have dedicated the last ten years of their lives to searching for the most innovative projects (and their creators) from different industries and areas in order to ask them one question: "What is your story?" In that time they have:
convinced themselves that the lion's share of brands and business leaders try to deluge potential clients with everything right away, not caring in the least about their attention and time
developed 14 signs of a company that has a chance to become an icon in its industry
learned how to make people remember them with just one phrase
developed a recipe for a successful brand/story—a short, trusting story that people will want to discuss and tell others about.
The pinnacle of the search that has taken them so many years is a project they finished just recently: a collection of selling stories and impressions from meetings with companies and figures from the world of business that was published in 2012. The trip they took to be able to write Around the World in 80 Brands took them half a year that they spent travelling around the entire globe and talking with visionaries.
The publication of their book wasn't the end of the story. Today Maarten and Anouk are continuing their social experiment: their current goal is to write the second part of Around the World… and to spread the 25000 copies of the first book among leaders of different schools of thought and see how the stories they wrote will spread from mouth to mouth. One copy came into the hands of the Knowledge Stream team and we asked the authors to share their work with our Russian audience.
POST-LECTURE DISCUSSION PARTICIPANTS
Vsevolod Korshunov

Script writer, Editor-in-Chief, Department of documentary films and series, TV Kultura

Kirill Gopius

Coach, Storyteller, Researcher. Founder of the Center for applied knowledge "Prime of Life "Funky" Education"

Yaroslav Tikhomirov

Educational conferences organizer, marketing teacher, copywriter
Event photo gallery
partners