Brad Hargreaves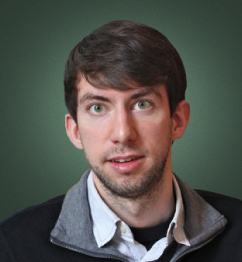 Innovation and Education series
Learning by Doing
April 22, 2013
|

20:00

On April 22 Brad Hargreaves spoke at the Digital October Center. Co-founder of a company that has revolutionized business education, offering new educational formats focused on practical skills for entrepreneurship and design industry discussed the ongoing global expansion of General Assembly as well as what an effective education should look like in a world where technology is increasing at an ever faster pace.
On April 22 as part of the Knowledge Stream project the Digital October Center organized a web conference with the co-founder of the educational start-up General Assembly, one of 30 under 30 according to Inc.com in 2012, Brad Hargreaves.
Brad co-founded General Assembly and is largely focused on guiding General Assembly's strategic growth. From developing the initial business models down to the day-to-day operational execution, Brad has played a key role in General Assembly's expansion to more than nine global markets in less than two years.
Today, Brad is focused on directing the organization's digital efforts, including the development of its online educational products which will help expand General Assembly's reach and bring high-quality online education to millions.
Most recently, Brad was named to Vanity Fair's "The Next Establishment" and Business Insider's "Silicon Alley 100".
Knowledge Stream guests:
Heared how General Assembly went from a big idea to a big investment;
Found out what curveballs and surprises await those who have opened or are planning to open their own project in the area of distance learning;
Learned about the future of learning (digital and otherwise);
Had the opportunity to ask questions.
Brad Hargreaves for Knowledge Stream
Prior to starting General Assembly, Brad built several other companies that bridge the online and offline worlds including GoCrossCampus and Aloysius Properties, and was Entrepreneur in Residence at Tipping Point Partners, an early-stage investor and incubator. Brad attended Yale, where he co-founded Yale's first university-run entrepreneurship initiative.
Facts about the lecturer:
Hargreaves was also mentioned in the Next Establishment ratings by Vanity Fair and the Silicon Alley 100 from Business Insider;
Besides his work with General Assembly, Brad is building a free online casino with virtual and real monetary prizes called Free Awesome;
Hargreaves also organizes meetings for New York video and online game developers, designers and investors.
Interesting facts about GA:
One of the first investors in the project was Yuri Milner, co-owner of the Mail.ru Group and DST Global, while Jeff Bezos (Amazon) and Howard Schultz (Starbucks) also invested;
Both American Express and General Electric use General Assembly video courses to further the qualifications and education of their employees;
The name General Assembly and the project itself came about at almost the same time as the Occupy Wall Street movement, which used the same name for its main gatherings.
POST-LECTURE DISCUSSION PARTICIPANTS
Sergey Dmitriev

Director, ad-hoc education&research program Game Changers

Elena Masolova

serial entrepreneur, co-owner of Eduson educational project

Boris Ryabov

Managing Parnter, Bright Capital

Anna Dvornikova

moderator,

Managing Partner, TEC VENTURES
Event photo gallery
partners